Japanese two-way star Ohtani Shohei has marked a Major League Baseball career high of 13 strikeouts and earned his 6th win of the season.

Ohtani was the starting pitcher and the designated hitter, batting second for the Los Angeles Angels in Wednesday's game against the Kansas City Royals.
Ohtani started a little shakily in the first inning, allowing two hits in a row. But he fanned the third batter, marking his 300th career strikeout and left the inning without allowing a run.
He became the second major leaguer to post 100 homeruns and 300 strikeouts after Babe Ruth.
Ohtani was dominant from the second inning. He showed excellent command of his fastballs and breaking balls. He struck out four consecutive batters in the first two innings.
Ohtani got his 13th strikeout in the 8th inning.
Ohtani pitched eight innings, allowing only two hits and no runs. The Angels won the game, 5 to 0.
---
Everything You Need To Know About New Japan Pro Wrestling
WrestleTalk – Jun 20
What does one need to know about new Japan pro wrestling being a promotion with half a century of history to poll from could leave that question with a bloated answer but fear not today will not be the day that I gather kids around the lemon tree and talk for hours on end.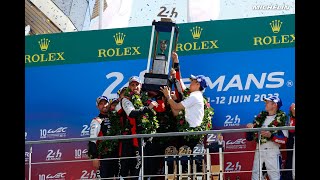 Toyota dominates again to win 5th straight Le Mans
Japan Today – Jun 13
Toyota won the 24 Hours Le Mans in the classic endurance race for the fifth straight time, with the No. 8 car finishing ahead of the No. 7 in another dominant performance on Sunday.
Naoya Inoue unifies 3 boxing bantamweight titles
Nikkei – Jun 08
Naoya Inoue became the first Japanese to hold a world title from three different sanctioning bodies with a second-round technical knockout of Nonito Donaire of the Philippines on Tuesday.